Samburu Game Lodge
...An endless pageant of wildlife with frequent nocturnal visits from a leopard family...Where between game drives visitors enjoy traditional hospitality and service...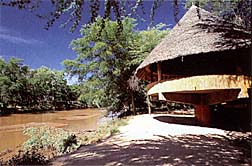 320 kms north of Nairobi, on the hot and arrid fringes of the vast northern region of Kenya and within the lands of the colourful Samburu pastorolists, relatives of the famed Maasai, lies Samburu National Reserve and the adjoining Buffalo Springs and Shaba National Reserves.
The life-line of these three sanctuaries, the palm fringed Uaso Nyiro River, attracts vast and varied herds of game and abundant birdlife to its cool, riverine forest and crocodile-infested waters.
Many species are rarely found elsewhere in Kenya. The narrow-striped, large-earred Grevy zebra, graceful long-necked gerenuk, Beisa oryx, Reticulated giraffe, and the blue-shanked Somali ostrich.
Where better to spend a few days in Kenya's northern game sanctuaries than in the riverine forest cool of Samburu Lodge, the area's first game lodge and still a firm favourite for visitors.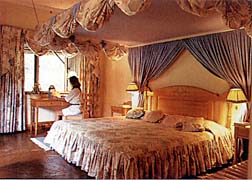 Block Hotels' time-honoured hospitality and service are enjoyed by each and every guest and the mouth-watering cuisine prepared by our team of chefs, so many miles from the city, is truly outstanding. There is also a choice of accommodation - cottages, twin or single rooms, all river facing.
At Samburu, there is never a dull moment. A part from our resident birdlife, monitor lizards and inquisitive squirrels, there are nightly visits from several large crocodiles and more often than not at least one member of the magnificent leopard family.
And there is plenty to fill the hours between those adventurous game drives - traditional Samburu dances, guided bird walks, and a sparkling swimming pool. Make sure you stay long enough to get to know us.
---
Copyright © 1996-2003 Kilimanjaro Adventure Travel Kilimanjaro Adventure Travel is currently closed to new clients and not booking new itineraries. This site is being maintained as a public service. For other enquiries, please e-mail bookings@kilimanjaro.com