Lake Naivasha Country Club
...Manicured lawns fringe the shores of the Great Rift Valley's Lake Naivasha...Over 300 species of birds inhabit the shores of Lake Naivasha, drawing ornithologists from all over the world...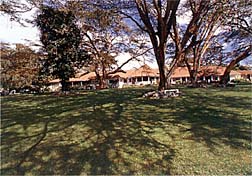 Just over an hour's drive from Nairobi, one of the Great Rift Valley's jewels, reflecting the tranquil beauty of an African sky and the surrounding mountains, is temporarily distorted as flocks of graceful flamingoes and pink-backed pelicans settle of the water. This fresh water lake, some 13 kms accross is a haven for bird watchers, nature lovers, artists and for those seeking a peaceful scenic retreat.
Previously known as Lake Hotel, this attractive Country Club, sited in 55 acres of lake side gardens, began life in the 1930s as papyrus thatched chalets. Although the current accommodation is a far cry from the original structure, the Club has certainly not lost any of its charm. There is a choice of rooms, cottages or suites all furnished with their own individual theme.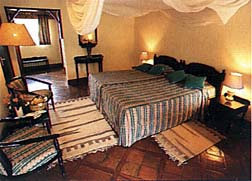 Lunch most days is al freco, beneath the shade of some magnificent acacia and pepper trees. And the evenings have their own special charm too. After a day in the fresh air, a Naivasha cocktail beside the roaring log fire in the residents lounge sets the pace for an enjoyable evening. Guests can look forward to a "home-grown" dinner prepared only from the freshest lake side ingredients.
One of the country's leading horticultural and agricultural areas, Naivasha produces world-class fruit, vegetables and flowers for export to Europe.
And between the Club's legendary meals, there is plenty to do to build up an appetite - walking amongst the game on nearby Crescent Island, fishing for bass and tilapia, bird watching by boat with one of our knowledgeable guides, climbing Mt Longonot, trekking through the gorges of Hell's Gate National Park, and visiting 'Elsamere', once home of the famous authoress, Joy Adamson and her beloved 'Born Free' lion. Then, of course there is always the swimming pool for catching up on a tan, a novel and a few lengths.
---
Copyright © 1996-2003 Kilimanjaro Adventure Travel Kilimanjaro Adventure Travel is currently closed to new clients and not booking new itineraries. This site is being maintained as a public service. For other enquiries, please e-mail bookings@kilimanjaro.com