All About Airkenya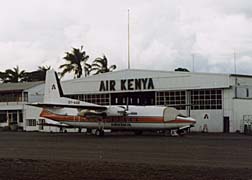 Airkenya Aviation was formed in 1985 by the merging of Air Kenya and Sunbird Aviation who between them had over 20 years of experience of general aviation in East Africa. It is a privately owned company.
The main administration, flight operations and engineering base is at Wilson Airport approximately 4 kms from the centre of Nairobi.
We operate a network of scheduled services within Kenya and charter flights throughout the region. In 1996, the company carried over 113,000 passengers on its scheduled services and in all operations flew over 88 million passenger kilometres.
There are currently 224 members of staff, and 36 of them are pilots of various nationalities. Six of the pilots have each flown more than 10,000 hours and the total pilot experience exceeds 160,000 hours.
Our passenger list includes the rich and famous! We have been cleared for carrying VIP passengers such as members of the British Royal Family, H.H. Aga Khan, former US President Jimmy Carter and senior Cabinet Ministers of several countries.
We are also approved by the International Shell organisation for carrying their staff: an approval that is only given after a strict technical and operational audit.
The scheduled services are operated under the carried code QP and are listed in most airline timetable directories.
Airkenya is a limited liability company. Insurance for the aircraft, passengers and third parties is placed in the London underwriting market through the company's brokers, Sedgwick Aviation Limited, London. All the aircraft carry a combined passenger / third party liability cover of US$20 million.
---
Copyright © 1996-2003 Kilimanjaro Adventure Travel Kilimanjaro Adventure Travel is currently closed to new clients and not booking new itineraries. This site is being maintained as a public service. For other enquiries, please e-mail bookings@kilimanjaro.com